Kofi Donkor – The Ghanaian "Gay Man" Behind The LGBT Advocacy.
There are many groups in Ghana, directly promoting "Gays and Lesbians" rights in Ghana and a few of these include African Equality Centre, Solace Initiative, Courageous Sisters Ghana, Ghana Queer Hub, HERE & Beyond and LGBT+ Rights Ghana.
Except that, the latter one, took their LGBT advocacy a whole new level and opened an office complex at the Ashongman Estate, here in Accra and they attracted national conversation and condemnation. Interestingly however, internationally, they received commendation and of course money, for this endeavour.
So far, the group, which was founded by Kofi, a self confessed "Gay man," may be strangely benefiting from all these debacle, as so far, from their extensive media publicity from the likes of DW, CNN, BBC, etc and have utilized this, to raise $51,928 out of $100,000 goal on a GoFundMe campaign.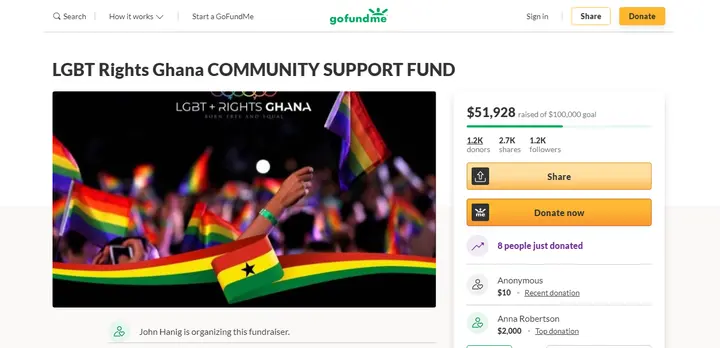 Lets get to know the Founder, Alex Kofi Donkor, as he is the "gay man" behind all the advocacy, that a private bill is been sponsored by eight MP's, to even criminalize.
Donkor, 29, is the founder of nonprofit LGBT+ Rights Ghana, which champions freedom for lesbians, gays, bisexuals, trans, intersex, queers, and allies in his home country of Ghana.
He has been profiled in VOGUE online Magazine, in a viral feature dubbed "Meet 7 Activists Fighting to Improve LGBTQ+ Rights Across Africa," where his answers to these questions, were that:
On founding LGBT+ Rights Ghana
"I initially started LGBT+ Rights Ghana as an activism blog to create awareness and share information. After a few months of social media activism, my colleagues and I put down a set of core values to bind us together as a movement. Our objective is to create initiatives and events that will foster the community's growth. We believe in intersectionality, so we align ourselves with other struggles such as feminism and humanism."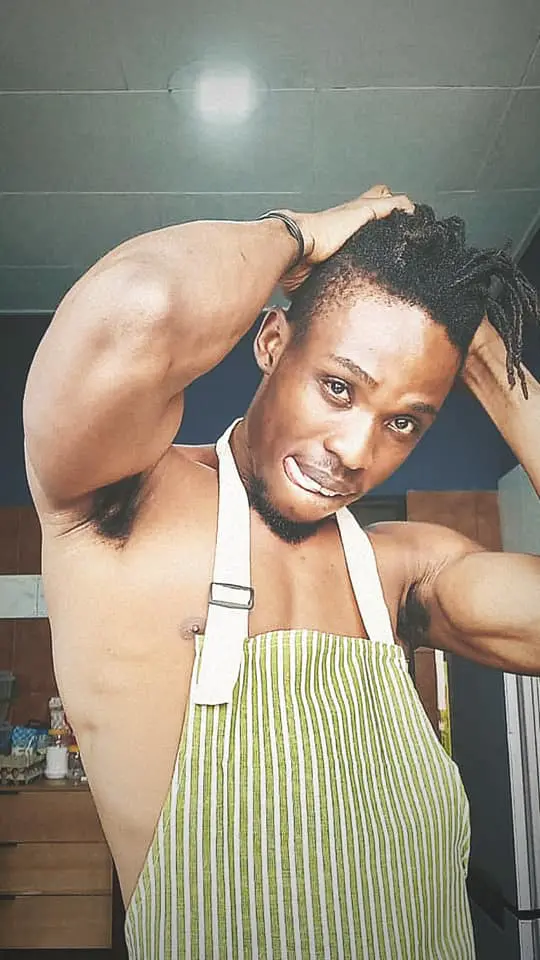 On the upheaval in the Ghana queer community
"The current situation is very difficult, fearful, and sad. We ran a series for Pride Month where we engaged with LGBTQ+ individuals to create awareness, and even though we face homophobia on this platform, what matters is that we have created a space that brings people together."
Again, in a publication in UK's renowned "Guardian" it shared that, the uproar in Ghana over the community space felt unprecedented, said 28-year-old Alex Kofi Donkor, who founded the group that had set it up.
For months Donkor has been publicly and fiercely defending LGBT+ rights in Ghanaian media. The approach taken by Donkor's organisation highlights a significant divergence among activists in repressive countries. Many groups that work on LGBT+ rights in Ghana do so discreetly, organizing under more ambiguous or generic causes.
"There's a generational change. There is this backdoor, quiet approach, then a more confrontational approach, by a younger generation who are more specific about what they want. Some older activists are saying, 'Maybe be quieter, maybe do things more carefully,' but people are tired and want to speak out. They don't want to make subtle steps when in reality their lives are on the line," Donkor said.
It is worth nothing that, aside him describing himself as a model, a chef and also, hosting an up coming program with other top speakers in the country soon, as seen below, he has also launched a petition online.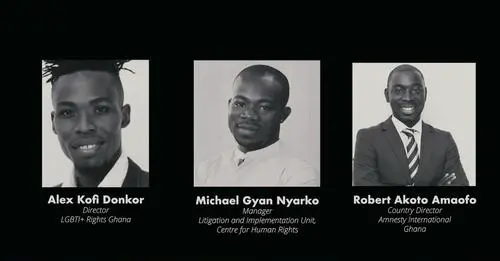 Three months ago, in a news story published on world renowned Reuters website, he was emphatic that, Twitter Inc's decision to open its first African office in Ghana, citing it as a champion of democracy, is "a slap in the face" for sexual minorities in the country who suffer abuse and persecution, the LGBT+ rights campaigner had said.
The social media giant announced earlier this month that the West African nation was selected because it was a supporter of free speech, online freedom and the Open Internet – values which Twitter said it also advocated for.
But LGBT+ rights groups criticised the move, accusing the company of disregarding the plight of LGBT+ people in Ghana, where persecution is widespread and gay sex is punishable with up to three years in jail.
"It clearly shows the LGBTQ struggle has been dismissed by this powerful company. They have erased us and our struggle by not even taking into consideration the challenges and threats that we face in this country. It is a slap in the face of LGBTQ people," said Alex Kofi Donkor.
Twitter said a number of African organisations were members of its global Trust and Safety Council, and advise the company on issues of freedom of expression and democracy.
Alex Kofi Donkor statements, forced Twitter to reply the publishers, Thomson Reuters Foundation, as they said:
"Our mission is to serve the public conversation. We believe in the unmatched power of the individual's voice and provide marginalized voices with a platform to be seen and heard. Twitter has been a catalytic factor in the mobilization of various social movements speaking truth to power, including the LGBTQ+ community."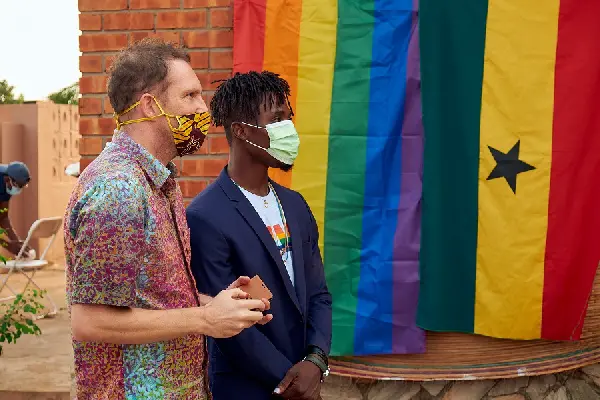 Alex with the Australian Ambassador to Ghana, at the commissioning of the LGBT+ Ghana Office Complex in Ashongman Estates
Alex Kofi Donkor official bio reads that, he is a Human Rights Advocate and an LGBTQ activist. He is the founder and current director of LGBT+ Rights Ghana, a movement of mostly young Lesbians, Gays, Bisexuals, Transgenders, Intersex, Queers and Allies championing a safe, inclusive and free society for LGBT+ persons in Ghana.
He also serves as Project Manager for Priorities on Rights and Sexual Health (PORSH), an LGBT led organization which focuses on MSM Health and research. He currently shares his time on several projects including USAID Care Continuum Project (Project Coordinator for Ayawaso Central in the Greater Accra region and Ho and Ketu South in the Volta region).
He is a Communication member of AfED (a pro-LGBTQI alliance) and Human Rights Defenders Ghana and a host of other allied duties.
Thank you for reading this post, don't forget to subscribe! If you have any content or products or services you wish to advertise on GhanaLegendary.com then get in touch with us on this number +233246722883 or +233246187160 or you can use the whatsapp button below.
We are also into social media handling, if you have a social media page that you cannot handle it yourself or you need more followers, likes, views for your handle, page or YouTube Watch Hours, subcribers, or views; If you need someone to do that for you just get in touch.