Togbe Afede refunds GHS365000 ex-gratia to the state
The Agbogbomefia of Asogli State, President of Asogli Traditional Area, and former President of the National House of Chiefs, Togbe Afede XIV, is trending on numerous blogs and social media platforms for boldly returning a large sum of money placed into his account by the Ghanaian government.
According to a statement made by the Agbogbomefia, while sitting on the Council of State, he got a monthly salary and allowances, therefore he does not feel the need to receive such a large sum of money as ex-gratia payment.
"I did not think the payment was made to trap me, as is being speculated. I believe it was paid to everybody who served on the Council of State. However, I thought that extra payment was inappropriate for a short, effectively part-time work, for which I received a monthly salary and was entitled to other privileges. So, I was very uncomfortable with it," Togbe Afede XIV said in a statement.
"After weeks of trying, I obtained advice on how to refund inappropriate payments to the State, and on March 4, 2022, I made the refund into the Controller & Accountant General's Department Suspense Account at the Bank of Ghana."
Togbe Afede XIV has lately made headlines for his criticism of the Bank of Ghana's decision to raise the policy rate.
He called the central bank's reaction "misrepresentations and outright lies".
The paramount chief indicated that the responses from the BoG are "lame, and failed to address the core issues I raised".
He said none of the BoG's arguments justify the astronomically high monetary policy rates that have burdened our economy over the past 20 years.
He said "It is unfortunate that not since May 2003 when I questioned the soundness of BOG's monetary policy has there been any open debate on the subject. I would urge our economists to show some interest. The "independence" of BOG does not grant it immunity from constructive criticism. BOG must demonstrate a genuine commitment to stability, growth, and employment generation."e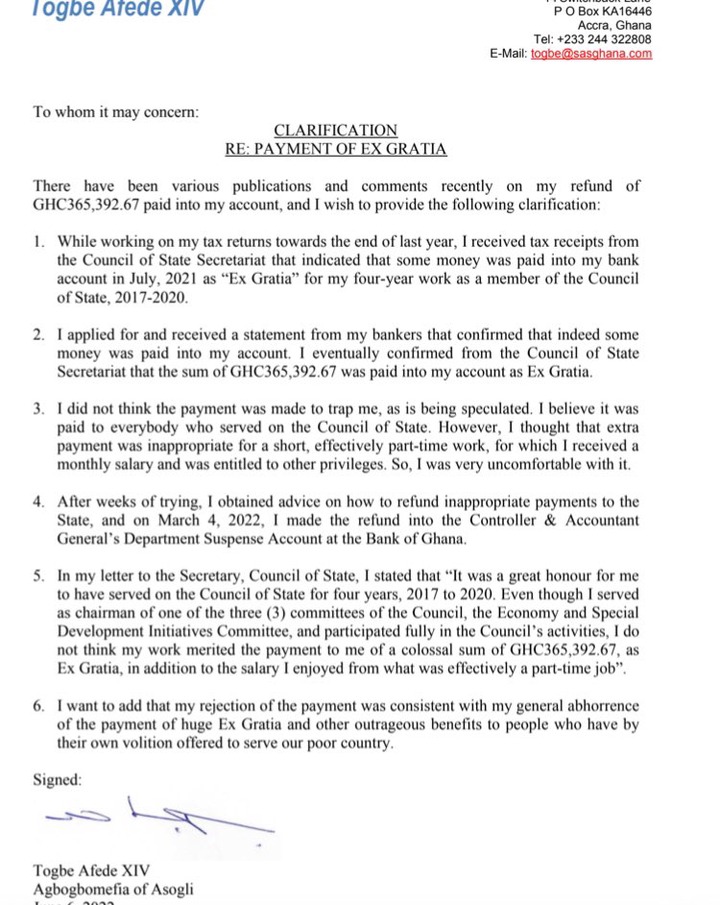 Thank you for reading this post, don't forget to subscribe! If you have any content or products or services you wish to advertise on GhanaLegendary.com then get in touch with us on this number +233246722883 or +233246187160 or you can use the whatsapp button below.
We are also into social media handling, if you have a social media page that you cannot handle it yourself or you need more followers, likes, views for your handle, page or YouTube Watch Hours, subcribers, or views; If you need someone to do that for you just get in touch.